"Mycotecture", "the idea that mushroom tissue grows into structural forms through biological system engineering." Philip Ross
In this post:
many projects mentioned in this post!
wait a minute – now during the pandemic – Maybe this is the time to review, rehash, rethink and then onward. take a look an update, Maybe time to stop and think.
above photo: carlo ratti associati: The Circular Garden, Milan 2019
Humans copying nature
Our own attempts to copy nature's structure-building capacity has left us with products that are far inferior to nature's originals—pleather (plastic leather) versus leather, particleboard versus wood and synthetic textiles, to name a few. Without nature's capacity for micro-assembly, we loose the best properties of natural materials are.

Enter mycelium.
Mycelium is kind of like yeast (both are fungi), but unlike most yeast cells, which grow as a single cell, mycelium is multi-cellular and grows into macro-size structures—which we most often recognize as mushrooms. Not only does mycelium produce small molecules, but it gently and with supreme precision assembles them into complex structures so small that they are invisible to the human eye.

Mycelium workings
Working much like single-celled yeast, mycelium takes in small molecules of food—typically sugar but often from sources such as wood or plant waste—by excreting enzymes that break these materials down into digestible morsels. As the mycelium grows it assembles a dense network of long, microscopic fibers that grow through the substrate like a superhighway system.

Once the mycelium has fully built its network, it moves on to its next stage: building a mushroom. This is where humans can intervene. Rather than letting a mushroom pop up out of the substrate, the mycelium builds predictable structures by controlling temperature, CO2, humidity and airflow to influence the growth of tissue.
*

This is a rapid process: the accumulation of fibers becomes a visible speck after a few hours, a visible sheet after a day or two, and an 18-by-2-by-12-inch (45.72-by-5.08-by-30.48-centimeter) sheet weighing a couple of pounds (~1 Kilogram) within the course of a week.


Mycelium in Construction

In Ms. Tonevitskaya's post linked above, she includes some very helpful illustrations that visualize her feeling that: "The possibilities are endless. Mycelium based materials could be very hard, soft, porous, weightless, could look like leather, plastic or paper, could have any texture, patterns and colors, could demonstrate high-temperature performance, corrosion resistance or conductivity, covering the requirements of a number of potential applications in architecture, design and fashion".
---

I have noticed that some viewers are asking questions like:

*

How long does it take to see it growing?
What are the properties of mycelium of use in Construction? Where are mycelium bricks?

Maybe I have found you some answers………..

Mycelium in Construction
>tips and troubleshooting –

*

how long does it take to see mycelium/mushroom growing
Grow Mushrooms: Learning How to Troubleshoot
Although many factors may influence your success, there are some common mistakes that are easily avoided. I've listed eight big ones below, along with practical solutions. If you're just learning to grow mushrooms, review this list to save yourself both time and heartache. Even if you're a veteran, it never hurts to come back to the basics.


Mushroom Cultivation: 5 Common Mistakes to Avoid
Here are some mistakes that we made when we first started to grow mushrooms. Sometimes it's good to learn from your own mistakes, other times it's enough to learn from others.

Mycelium in Construction >insulation made from mycelium
2018 Abstract. In order to improve energy performance of buildings, insulation materials are being used in increasing quantities, which may lead to potential depletions of raw materials. One sustainable solution suggested is the use of bio-based, biodegradable materials. In this paper, we examine a novel type of bio insulation materials – mycelium. The aim is to produce mycelium materials that may have insulation properties and to have properties that match existing building insulation in terms of physical and mechanical characteristics but with an enhanced level of biodegradability. The testing data showed mycelium bricks exhibited good thermal performance. We plan future work to improve growing process and thermal performance of the mycelium bricks.
---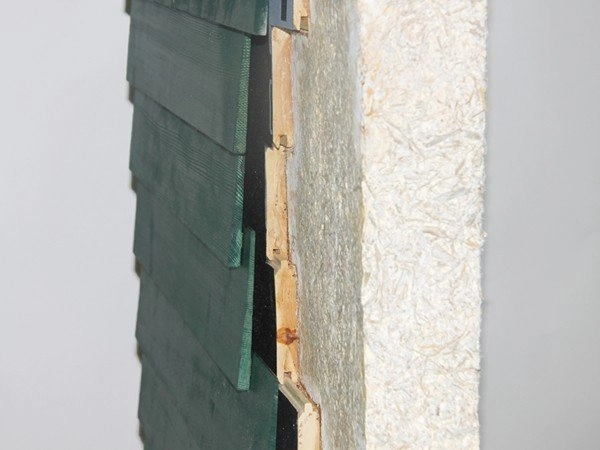 July 2013, Rather than blowing agents, this insulation uses growing agents. It's natural, made with agricultural waste and fungi. You grow it in place. It has No hydrocarbons, and it yields little to no toxic waste. Compared to most other insulation materials, it takes little energy to make the stuff




---
January 2019 – Critical Concrete – After the good results from our mycelium experimentations (mentioned in this link) during the Summer School 2018 we decided to explore further the promising results from the cardboard bricks to improve our production process. This new step in our research was lead by the objectives of reducing the economical costs and the time of the production for a future bigger scale production.
Water: Our last experiment tested waterproof properties: as we discovered, flowing water on the surface is not a factor of damage for the material. Above we observe the drops not penetrating the surface.
---


Mycelium in Construction >Mycelium Bricks & properties of mycelium for construction
weather-proof >> correct me if I am wrong, but it seems that weather/water proof is the biggest draw back at this point, to Mycelium Bricks. water-resistance
In my first post on Construction with Mycelium, I noted the following:
Weather-proofing them without destroying their essential "compostability" has been a concern. Natural oil has been used to penetrate into the bricks. They have been tested in a "home shower" and found to only gain a few percentage points of mass. "They don't go really soggy and flexible," says the fabricator from Ecovative.
14/05/2018 From the interview:
Is there a way to make the material weather-proof from the outside environment without destroying its compostability? Would natural oil penetration be a partial solution, like in the Hy-Fi tower by David Benjamin? Or shellac, a solution applied by Phil Ross?
The finishing is one of the most important things in order for something that looks like a material to actually become a product. There are different kinds of oils that have been traditionally and effectively used for wood treatment in the inside or outside environment. For example, linseed oil is commonly used for the conservation of old wooden furniture. However, it is really not a permanent solution, as it requiries maintenance and reapplied every once in a while. Waxes are an equally interesting solution but as in the case of oils, applied over and over again. Shellac on the other hand, is a great natural polymer but also a quite expensive material compared to other industrial solutions, particularly when thinking about scale and high production volumes. Moreover shellac, as well as linseed oil, changes the quality of the material as it creates a film on top that seals its pores. Therefore, if the point is to have a porous material that allows the wall to breath, shellac is not the correct option. These are all temporary solutions applicable for projects that are not meant to be in place for a long time.
For this reason, we are currently working with nanoparticles that penetrates the pores and still keep the structure open. Nowadays we are trying to develop our own formulations in order to create coating systems that could maintain the feel, the look and the qualities of the original material, while enhancing its durability. For instance, one compound that I am currently testing is nanocellulose, which is completely natural and promises to be a great future coating system even though not yet developed as such.
Lots of people are researching, testing, working on the "Mycelium Brick" potential:
Advanced Materials From Fungal Mycelium: Fabrication and Tuning of Physical Properties
2017 Abstract: We present in this work a new category of self-growing, fibrous, natural composite materials with controlled physical properties that produce in large quantities and over wide areas, based on mycelium, the main body of fungi. … One result: The materials grown on cellulose contained more chitin and showed higher Young's modulus and lower elongation than those grown on dextrose-containing substrates, indicating that the mycelium materials get stiffer when their feeding substrate is harder to digest. The possibility of tailoring mycelium materials' properties by properly choosing their nutrient substrates paves the way for their use in various scale applications.
Effect of Temperature and Growth Media on Mycelium Growth of Pleurotus Ostreatus and Ganoderma Lucidum Strains
July 2019 The aims of the study are to identify an effective and versatile fungal strain for bioengineering mycelium composites. We investigated the influence of temperature and four different growth media on mycelium growth of two white rot fungi, Pleurotus ostreatus (Winter Oyster) and Ganoderma lucidum (Reishi) in laboratory conditions.
…P. ostreatus produced best mycelium morphologies on potato dextrose agar supplemented with yeast extract (PDYA) followed by potato dextrose agar (PDA) and sabouraud dextrose agar (SDA). This showed mycelium morphology of P. ostreatus is significantly improved with supplemented carbon and nitrogen sources grown at optimal temperature of 22 °C.
Fabrication factors influencing mechanical, moisture- and water-related properties of mycelium-based composites November 2018
Highlights:
>The fungus type influences homogeneity of mycelium composite materials – thickness of the fungal skin.
>The fungal skin impacts mechanical behaviour of the composite material and improves water resistance.
>Straw-based materials are stiffer and less moisture-resistant than cotton-based mycelium composites.
>Heat pressing improves homogeneity, strength and stiffness of mycelium composite material.
>Heat-pressed mycelium materials have similar density and elastic modulus as natural materials (e.g. cork and wood).
ARCHITECTURE STUDENT DEVELOPS SUSTAINABLE BUILDING MATERIAL FROM FUNGUS
November 2018 mycelium with glass: Architecture graduate student Tayana Ghosh has developed a new building material that combines mycelium fungus with glass. Ms. Ghosh's research shows potential that the mycelium-glass material is a potential insulation for boards or sandwich panels, instead of foams. As next steps, she recommends additional testing of the material, including its fire resistance and shear strength.
---
CLAYCELIUM_ LIVING STRUCTURES
"Claycelium (Clay+Mycelium) is a project developed at IAAC, Institute for Advanced Architecture of Catalonia, in collaboration with IIT, Italian Institute of Technology. Justin Sheinberg and Mert Gonul Justin Sheinberg and Mert Gonul created Claycelium during the 2018/19 MAA01, Digital Matter program."
A very comprehensive report:
From the conclusion in our 5 phases of experiments and the requirements we set for ourselves, we began to develop claycelium with Coffee grounds and sawdust acting as the nutrients and the clay and mycelium acting as structure. These nutrients we collected locally at no cost.

After choosing our composite for Claycelium, we then began to investigate its use in Robotic Construction. We used 3 versions of paste deposition modeling extruders in our research.

From these tests we were able to conclude that Claycelium is 19% stronger in tensile strength than clay. These results were compared against a variety of tests and each test was performed multiple times.
---
Mycelium in Construction >Architecture and Mycelium = "Mycotecture"?
Step 1: Get Mycelium
Step 2: Sterilize Your Substrate
Step 3: Inoculate the Substrate With Mycelium
Step 4: Design Your Formwork
Step 5: Place Substrate (on your Form)
Step 6: Seal It Up
Step 7: Let It Grow
Step 8: Remove Form
Step 9: Bake Your Model
Step 10: Add Scalies (scaled figures)
---
Mycelium, from an organic substance to a construction material: the development of mushroom-based bricks for renovating habitats.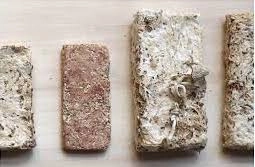 2019 FAIRE: The North of France's mining area is a famous territory for its productive history that also reveals an innovative past. An important plasturgic production had its place during the coal epic. This project emerges from this tradition between industry and innovation.

Sarah, Rym and Dania are three fifth year students from the Architecture and Landscape school of Lille. They are working since several months on renewable materials as part of miner dwellings' restoration in the city of Rouvroy.

Launched in 2017 by the Pavillon de l'Arsenal and the City of Paris, with the support of Caisse des Dépôts and in collaboration with MINI, the FAIRE platform invites multi-targeted teams, architects, urban planners, landscape architects, engineers, designers, to propose innovative research and experimental projects to meet major urban challenges: climate, materials crisis, new technologies, solidarity, cleanliness, mobility….
---
The world of architecture, construction and design cannot and must not stay behind. In fact, with The Growing Pavilion we show the possibilities and above all the enormous beauty of biobased materials.
The Growing Pavilion shows how far we can go at this moment in the ambition to build completely biobased, and the new aesthetic that comes with it. Because our ambitions extend beyond the possibilities, it leads to new and unexpected encounters that grow together towards a total biobased future. We want to appeal to construction professionals, architecture, and design as well as a wide audience to look at the power, importance and beauty of biobased building. Are you ready for this next step?
---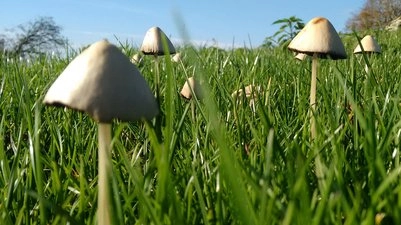 September 2019 A group of international researchers are set out to develop an intelligent building grown from mycelium and capable of adaptively reacting to changes in light, temperature and pollution. The project is funded by EU a third of which is allocated to CITA, Centre of Information Technology and Architecture at KADK.

Fungal Architectures is the second EU Future and Emerging Technologies funded project for CITA that focuses on integrating living complexes in novel architectural technologies. The academic partners in the project are UWE Bristol in the UK (coordinating partner) and Utrecht University in Holland. The industry partner is MOGU, a mycelium-based technologies company based in Italy.
---
January, 10th 2019 This is the idea behind the Indonesian start-up Mycotech, which makes the most of the incredible power of mycelia – the vegetative part of mushrooms consisting of a mass of branching, thread-like hyphae – to grow 30 x 30 cm building boards. … Mycotech works with a number of Indonesian farmers who supply more than three metric tons of waste per month. And someday, when the biomaterial reaches the end of its life, compost it too.
Mycelium in Construction – other directions
---
September 2019, For the second year, The Institute for Advanced Architecture of Catalonia (IAAC) and Swinburne School of Design continue to share their passion for architectural experimentation and sharing of ideas in the second IAAC Global Summer School workshop at Swinburne. Architecture students are being introduced to new digital structural optimisation workflow tools using proprietary apps and software programs such as Ameba, to visualise and test the performance of structural forms in 3D.
The large laser-cut form is the scaffold for mycelium cultivation. The substrate, mixed with mycelium culture, was placed inside the mould and transferred into an incubator in the biology lab over the two-week workshop period….Looking for more sustainable production methods, students investigated CNC machining of mycelium and the possibility of cutting a form from a preformed block of mycelium grown in a standard reusable incubating bag.
---
Geodesic structure made of Mycelium
Sound from Mycelium within the Mycelium Martian Dome and more
An 8'x16' geodesic dome grown from living mycelium. Inside, a living mycelium sculpture generates sounds (bio-sonification) that are translated to MIDI creating a non-human derived soundscape. Visitors may interact with the Mycelium sculpture, having their bio-data read and translated through the fungus.
Tosca's residency at MoCA in partnership with the Ontario Science culminates with the Mycelium Martian Dome project installation at the Ontario Science Centre for the summer of 2019.
An 8'x16' geodesic dome grown from living mycelium.

The European Space Agency is exploring whether fungi can grow buildings, like labs and other facilities, in space. Nasa (below) is also examining whether their Mars missions could grow surface structures on the planet itself. NASA is considering the production on Earth of a flexible plastic shell seeded with mycelium and then activating the fungal growth once on Mars.
---
Lynn Rothschild
March 2018 NASA Ames Research Center

The trade-off
A turtle carries its own habitat. While it is reliable, the trade-off is that it costs energy. NASA makes the same trade-off when it transports habitats and other structures needed to lunar and planetary surfaces, increasing upmass, and affecting other mission goals.

Housing in Outer-Space
Imagine a self-assembling habitat made of a light, fibrous material, with excellent mechanical properties. The material could be used dry, wet, frozen with water or as part of a self-produced composite which could allow such enhancements as radiation protection and a vapor seal. It is self-replicating so the habitat could be extended at a future date, and self-repairing. Some form of this material could be used for a habitat at destination, additional buildings, the shell of multiple rovers and furniture.

Mycelium – the solution?
The fibrous material is fungal mycelium, the vegetative structure of fungi consisting of branching, thread-like hyphae. Mycelial materials, already commercially produced, are insulators, fire retardant, and do not produce toxic gasses. These materiels can have compression strengths superior to dimensional lumber, flexural strength superior to reinforced concrete, and competitive insulation values. As mycelia normally excrete enzymes, it should be possible to bioengineer them to secrete other materials on demand such as bioplastics or latex to form a biocomposite. ……
Mycelium in Construction
All my Mycelium posts
Additional posts, about Mycelium in Industry:
….all of which starts here:
Mycelium in Industry – Ancient and New

Construction industry,
Packaging industry,
Textile industry,
Furniture industry
Mycelium R&D Projects
Mycelium in Fashion Marketing – One Approach
May 2019 Mycelium in Industry update: Construction, Packaging, Textile, Furniture, +
June 2019 Mycelium Composites? Hands-on – Do it yourself
October 2019 Mycotecture? more-Mycelium in Construction
March 2020 "Mycelium in Industry" Where else can you get information?
March 2020 Mycelium in Construction?…some tangible progress
October 2020 Mycelium Is IN Textile/Fashion – 2020
December 2020 MycoProteins – Mushrooms To Meat?
February 2021 Construction, Mycelium, Industry..Wait A Minute
September 2021 Mycelium Momentum; World Is Waking Up.
January 2022 Myco-Remediation – Decompose And Remedy
July 2023 Mycelium Packaging – How To Make It A Business In 2023

materials for Mycelium in Construction
Suppliers of Mycelium Composite Material, around the world:

>>>>Australia:
>Mr. Russell Whittam, www.aussimushroomsupplies.com.au,
I've done lots of work with universities the last few years; supplying them with substrate and how to make their own materiel, etc. as well.
I've got a new product coming out about mid-2020 – for making things – just add water, spawn and mold the material. Then let it grow. Contact him at: [email protected]

>>>>Egypt: mycelium material This start-up team has patented their own myco-composite material using mushroom strains found in Egypt. They have started to sell bowls, pots and to offer Mycelium packaging. We offer different products in construction such as insulation panels and open to supplying packaging as protective packaging for those seeking eco-friendly alternatives. We are also open to other creative projects using mycelium material. Visit our website: https://mycellium.co/

>>>>Europe:
>Grown.bio – has a license agreement with Ecovative Design.
their new MycoComposite™ kits consist of only LIVING mushroom material and are supplied to the EU countries. Possible also for geographical Europe, but customs clearances must be taken care of by the person making the order.
Grown.bio is now supplying the Mycelium Composite ™ material to insulate buildings. They have insulated class rooms in an Amsterdam school building and in a house in a village near Rotterdam. Scroll down to Building & Architecture products here. They have supplied the MycoComposite™ to many of the projects taking place in Europe, recently, that have been mentioned in my posts. Grown.bio sells other things made from MycoComposite™.

>>>India:
Finally! >Roha.bio At Roha we develop Mycelium bio-composite based protective packaging that can replace Styrofoam using agricultural residue and mushroom mycelium, we do this by collaborating with farmers and self-help groups in the villages, boosting their income.
On other hand we collaborate with startups and brands in consumer electronics space , design and develop protective packaging for their needs. Roha.bio

>>>>Indonesia:
>MYCL, Mycotech Lab has an internship program. It makes a lot of sense to get some controlled experience with mycelium. MYCOTECH Lab produces and sells, mycelium board composite panels BIOBO, and supplied the labor and material for the MycoTree project.

>>>>Malaysia
>Fungitech Mushroom farm waste is always a big problem for mushroom growers all around the world. In our site, we fully utilise this farm waste to make 100% chemical-free and biodegradable mycelium biomaterial. Currently, we mainly supply this green biomaterial for packaging purpose. This patent pending innovative technology is able to solve mushroom farm waste problem and provide a greener life style to our mother Earth.

>>>>The Netherlands – for Large orders in the EU Mycelium Materials Europe (in short
MME) started in 2018. We grow sustainable mycelium materials based on mushroom technology. We produce two types of organic materials in our own mushroom farm: MyFoam® (pure mycelium foam) and HedelComposite Hedelcomposite is composed of sterilized residual sawdust and inoculated with mycelium. Ready to use. Grow your own biodegradable mycelium objects with Hedelcomposite in just one week!  Maximum of 10 bags (300L) per order. 

>>>>New Zealand
> Bio Fab NZ a new company that Ecovative has licensed in New Zealand. "Lesley, We currently work within Australasia so can only ship within New Zealand and Australia. We are looking at having a large scale plant open early to mid 2021 and aim to set up one in Australia soon after. We are planning on selling Grow-it-yourself kits, but not until our plant is up and running." says James from [email protected]

>>>>UK
> The Magical Mushroom Company a new company/website in the UK. (Ecovative License)..The Magical Mushroom Company is the UK's first-ever production plant manufacturing mycelium-based packaging. Founded by three friends wanting to make a difference.

>>>>USA:
>Grow-It-Yourself Kits for MycoComposite™ are now available direct from Ecovative's Grow.bio. Here you will find all instructions, learning, and purchasing information. Grow.bio, however, only ships the MycoComposite™ material within North America.
>Ecovative LLC has transferred all their Mushroom Packaging production equipment to a facility 4x bigger at Paradise Packaging Co which is now handled under the general website: https://mushroompackaging.com. The new company and new website offer you more information about the mushroom packaging material and how it works.

>>>more places around planet Earth?
From Ecovative:
>If you are interested in building a business in MycoComposite technology, Ecovative is now handling partnership discussions from here: https://mushroompackaging.com/pages/licensing-form Licensing with Ecovative allows the partner to explore alternate substrates, techniques, and products.
>For other issues Contact Ecovative Here
ALWAYS
How to join the Circular Economy and other eco-concerns of small business owners are the motive for my blog. Tell me what you are looking for. Maybe I can help you find it.