PLEASE NOTE: there is further construction information in the May 2019 Mycelium in Industry, this October 2019 Mycotecture update and in March 2020: some tangible progress and more information sources for Mycelium in Industry.
In this post:
above infographic: Biocycler by redhouse architecture
Mycelium in Construction
– Let us close-the-loop
In the race to find sustainable construction materials that will reduce our ecological footprint, new technologies from nature are paving the way. One of the newest and most promising is the mycelium brick formed from organic waste and the mycelium of fungus. These bricks can be used as a super strong, water, mould and fire resistant building material grown to your specifications. The technology reduces fabricating requirements. The architectural and construction industry have recently taken serious interest in them.
Construction applications for mycelium include a composite board (Myco-board) which can be used much like Medium-density fibreboard/particle board without the extremely dangerous formaldehyde used in the glue. Mycelium can be used to grow furniture and/or the bricks which are easily recycled at the end of their life. Depending on how the mycelium brick was made its compressive strength may be around 30 psi in comparison to the 4000 psi compressive strength of concrete. However, relative to its weight a mycelium brick is stronger than concrete with a cubic metre of mycelium brick weighing 43 kg and a cubic metre of concrete weighing 2400 kg.
More areas where people are developing applications for mycelium are Renovation, Restoration and building with mycelium wood, smart concrete, wall reinforcement material for restoration.
Benefits of Mycelium in Construction
The process of producing with mycelium brings a huge reduction in using fossil fuels. The energy required for fabrication is small and there is a massive reduction in construction waste as the product is 100 percent biodegradable and can be used as soil. Bio fabrication is a carbon neutral building process and can eliminate artificial insulation used in walls, use of particle board and other non load bearing structures. Mycelium products can provide other benefits such as termite proofing (it can attract termites but when eaten cause a fungus spore to activate within the termite killing it and creating a fungus whose spores repel other termites).
It is going to be hard to bring all the claims associated with Mycelium in construction to reality, but as one focuses on a project with Mycelium it is a good idea to investigate the claims both in literature and by testing on site.
The final result is a mushroom brick that can be 200,000 times softer than steel, 10,000 times less stiff than a typical housing brick, but capable of holding the equivalent of 50 cars.
or
When mycelium bricks are placed together, in a few hours, the material fuses together. The growth can be stopped when the substance is dried, creating a rigid material which can be sanded and painted. The mycelium bricks are bulletproof and absorb carbon dioxide, making them a sustainable material for the construction of our future buildings.
Weather-proofing them without destroying their essential "compostability" has been a concern. Natural oil has been used to penetrate into the bricks. They have been tested in a "home shower" and found to only gain a few percentage points of mass. "They don't go really soggy and flexible," says the fabricator, Ecovative.
"Perhaps the greatest potential of mycelium biocomposites is as an alternative insulation material for buildings. "Their biggest application in the long run is in architecture and construction," said Dahmenm, assistant professor at U. British Columbia School of Architecture and Landscape Architecture . "The average age of commercial buildings in North America is under 40 years. If we could imagine construction materials that add positive value to ecosystems as they break down, we have a whole new paradigm for the way we approach buildings, at a time when we're demolishing most buildings long before they wear out."
Hy-Fi from The Living. "In 2014, we tested and refined a new low-energy biological building material, manufactured 10,000 compostable bricks, constructed a 13-meter-tall tower, hosted public cultural events for three months, disassembled the structure, composted the bricks, and returned the resulting soil to local community gardens. This successful experiment offers many possibilities for future construction."
---
MOGU-Home products include resilient flooring, thermal insulating panels, acoustic absorbing panels, decorative tiles and engineered woods. The products use mycelium exclusively as a binding agent and can be formed into custom shapes or provided as flat boards. They are 100% natural fire-retardant and do not contain any toxic compounds.
MOGU-Home products will soon be available on the market. Their 2019 catalog of acoustical and flooring products is HERE.

"Our mission is to use the waste from various production chains to create new competitive products.", says CEO, Mr. Stefano Babbini, "We are exiting from a pre-industrial phase. We are constantly approached by companies that have produced waste they wish to offer us in collaborations. We check whether these organic fibers are suitable for making composite materials.
Architect at work @Material Driven – Old Truman Brewery – London (UK) – Exhibition
Mogu materials and prototypes will be presented as part of Architect at Work, at the Old Truman Brewery (London – UK), in an exhibit about materials curated by Material Driven and The Building Centre. January, 2019
---
The architect Dirk Hebel (Karlsruhe Institute of Technology) and engineer Philippe Block (ETH Zürich), demonstrate the possibility to hold up a building or part of one with mycelium construction. The two established designers have created a self-supporting structure made entirely out of waste materials and bound with the fiber from mushroom mycelium. They are testing the potential of more sustainable building materials.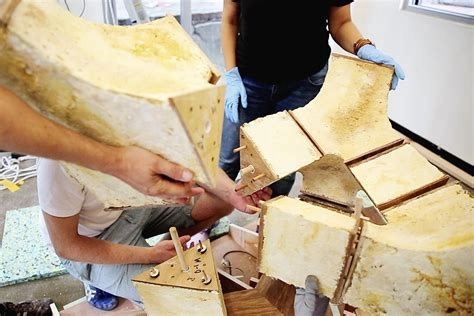 According to Hebel and Block, the material is strong enough to create a self-supporting two-storey building, if the structure is designed with the correct geometrical formations.
We used very tight calculations that exploit the strengths of the materials;
1. The fungal building blocks are able to withstand pressure and stabilise each other.
2. The weight and tensile strength of the bamboo lattice holds together the branches of the Tree.
The fungal building blocks for MycoTree were produced by an Indonesian company. Mycotech appears to be a forerunner of mycelium technology in the Far East. Originally a mushroom grower, it has joined the mycellium fabrication movement with a number of interesting products ready to market.
"The fungal building blocks look like pressboard. The only difference from normal pressboard is that fungal mycelium is the binder / adhesive," says Heisel. "As far as we know, MycoTree is the first mycelium structure that supports itself as well as a load." The project benefited from the know-how of Philippe Block from the Block Research Group (BRG) at ETH Zurich. Mr. Block has developed sophisticated graphic methods that enable statistics to calculate, construction properties of three-dimensional structures. It was possible to design a stable construction from a rather brittle material. "We wanted to show what is possible when the design is right," says Heisel.
Another advantage is that the know-how for large-scale fungi production is already available from the food industry, from which the mycelium is just a waste product. That waste product can be put to good use in the construction industry on a regional basis.
---
Biocycler

by redhouse architecture with Mycoterials
Every year, more than 530 million tons of construction and demolition waste like timber, concrete, and asphalt end up in landfills in the U.S. The firm redhouse, led by architect Christopher Maurer, has developed a biological process to turn wood scraps and other kinds of construction waste like sheathing, flooring, and organic insulation into a new, brick-like building material.
Bioterials™ produced from mycelium as a binder show results better than the compression of wood framing, the bend resistance of concrete, is a better insulator than fiberglass batts and has strong fire resistance. These and other biomaterials may have the capacity to revolutionize the building industry with better qualified materials while they lower carbon footprints.
redhouse studio was founded in 2014 in Cleveland, Ohio by Christopher Maurer. Mr. Maurer is an architect and adjunct professor of architecture at Kent State University. In practice, redhouse works in all areas of architecture, from research in low impact material technologies, design and fabrication, to net-zero retrofits. redhouse studio works closely with clients to innovate and design sustainable solutions built for a brighter future for all.

---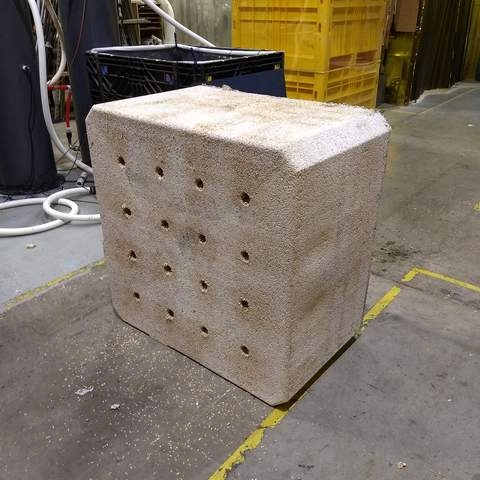 Ecovative has developed a manufacturing system to grow large blocks of mycelium / wood composites. These can be cut, sanded, and used as ultra low density particle board panels or shaped into large forms. Perfect for a wide range of construction applications; door cores, acoustic panels and barriers, etc.
Ecovative is committed to working with industry and consumers to rid the world of toxic, unsustainable materials. We believe in creating products that enable companies and individuals to achieve their sustainability goals, without having to sacrifice on cost or performance.
If you are interested in starting your own mycelium products business in your region of the world, feel free to contact www.ecovative.com to learn more about our Pilot Plant and licensing options.
Additional information! All my Mycelium posts



Additional posts, about Mycelium in Industry:
….all of which starts here:
Mycelium in Industry – Ancient and New

Construction industry,
Packaging industry,
Textile industry,
Furniture industry
Mycelium R&D Projects
Mycelium in Fashion Marketing – One Approach
May 2019 Mycelium in Industry update: Construction, Packaging, Textile, Furniture, +
June 2019 Mycelium Composites? Hands-on – Do it yourself
October 2019 Mycotecture? more-Mycelium in Construction
March 2020 "Mycelium in Industry" Where else can you get information?
March 2020 Mycelium in Construction?…some tangible progress
October 2020 Mycelium Is IN Textile/Fashion – 2020
December 2020 MycoProteins – Mushrooms To Meat?
February 2021 Construction, Mycelium, Industry..Wait A Minute
September 2021 Mycelium Momentum; World Is Waking Up.
January 2022 Myco-Remediation – Decompose And Remedy
July 2023 Mycelium Packaging – How To Make It A Business In 2023

Mycelium Suppliers
Suppliers of Mycelium Composite Material, around the world:

>>>>Australia:
>Mr. Russell Whittam, www.aussimushroomsupplies.com.au,
I've done lots of work with universities the last few years; supplying them with substrate and how to make their own materiel, etc. as well.
I've got a new product coming out about mid-2020 – for making things – just add water, spawn and mold the material. Then let it grow. Contact him at: [email protected]

>>>>Egypt: mycelium material This start-up team has patented their own myco-composite material using mushroom strains found in Egypt. They have started to sell bowls, pots and to offer Mycelium packaging. We offer different products in construction such as insulation panels and open to supplying packaging as protective packaging for those seeking eco-friendly alternatives. We are also open to other creative projects using mycelium material. Visit our website: https://mycellium.co/

>>>>Europe:
>Grown.bio – has a license agreement with Ecovative Design.
their new MycoComposite™ kits consist of only LIVING mushroom material and are supplied to the EU countries. Possible also for geographical Europe, but customs clearances must be taken care of by the person making the order.
Grown.bio is now supplying the Mycelium Composite ™ material to insulate buildings. They have insulated class rooms in an Amsterdam school building and in a house in a village near Rotterdam. Scroll down to Building & Architecture products here. They have supplied the MycoComposite™ to many of the projects taking place in Europe, recently, that have been mentioned in my posts. Grown.bio sells other things made from MycoComposite™.

>>>India:
Finally! >Roha.bio At Roha we develop Mycelium bio-composite based protective packaging that can replace Styrofoam using agricultural residue and mushroom mycelium, we do this by collaborating with farmers and self-help groups in the villages, boosting their income.
On other hand we collaborate with startups and brands in consumer electronics space , design and develop protective packaging for their needs. Roha.bio

>>>>Indonesia:
>MYCL, Mycotech Lab has an internship program. It makes a lot of sense to get some controlled experience with mycelium. MYCOTECH Lab produces and sells, mycelium board composite panels BIOBO, and supplied the labor and material for the MycoTree project.

>>>>Malaysia
>Fungitech Mushroom farm waste is always a big problem for mushroom growers all around the world. In our site, we fully utilise this farm waste to make 100% chemical-free and biodegradable mycelium biomaterial. Currently, we mainly supply this green biomaterial for packaging purpose. This patent pending innovative technology is able to solve mushroom farm waste problem and provide a greener life style to our mother Earth.

>>>>The Netherlands – for Large orders in the EU Mycelium Materials Europe (in short
MME) started in 2018. We grow sustainable mycelium materials based on mushroom technology. We produce two types of organic materials in our own mushroom farm: MyFoam® (pure mycelium foam) and HedelComposite Hedelcomposite is composed of sterilized residual sawdust and inoculated with mycelium. Ready to use. Grow your own biodegradable mycelium objects with Hedelcomposite in just one week!  Maximum of 10 bags (300L) per order. 

>>>>New Zealand
> Bio Fab NZ a new company that Ecovative has licensed in New Zealand. "Lesley, We currently work within Australasia so can only ship within New Zealand and Australia. We are looking at having a large scale plant open early to mid 2021 and aim to set up one in Australia soon after. We are planning on selling Grow-it-yourself kits, but not until our plant is up and running." says James from [email protected]

>>>>UK
> The Magical Mushroom Company a new company/website in the UK. (Ecovative License)..The Magical Mushroom Company is the UK's first-ever production plant manufacturing mycelium-based packaging. Founded by three friends wanting to make a difference.

>>>>USA:
>Grow-It-Yourself Kits for MycoComposite™ are now available direct from Ecovative's Grow.bio. Here you will find all instructions, learning, and purchasing information. Grow.bio, however, only ships the MycoComposite™ material within North America.
>Ecovative LLC has transferred all their Mushroom Packaging production equipment to a facility 4x bigger at Paradise Packaging Co which is now handled under the general website: https://mushroompackaging.com. The new company and new website offer you more information about the mushroom packaging material and how it works.

>>>more places around planet Earth?
From Ecovative:
>If you are interested in building a business in MycoComposite technology, Ecovative is now handling partnership discussions from here: https://mushroompackaging.com/pages/licensing-form Licensing with Ecovative allows the partner to explore alternate substrates, techniques, and products.
>For other issues Contact Ecovative Here
If you are a Myco Composite Supplier, or you know of one or a course on how to make Mycelium Composite Material, PLEASE let me know! So I can add them to the list!
ALWAYS
How to join the Circular Economy and other eco-concerns of small business owners are the motive for my blog. Tell me what you are looking for. Maybe I can help you find it.