REmanufacturing is one of the most important industries for the Circular Economy.
In this post:
There is much to do in REmanufacturing!
limited list of of products being re-manufactured
What is Global Reman Day?
…Remember the list at the bottom of other Remanufacturing posts
Recycling & the Future of Materials for Industry
Across the globe, primary raw material sources [from mines] are depleting, while the amounts of industrial waste and end-of-life-products are rapidly increasing. …. Considering the materials needs of an exponentially growing world population, recycling will have to evolve from a side stream to a major pillar of raw materials supply if we want to protect our planet and make business sustainable.
---
Remanufacturing – a form of recycling is a big part of this process; conserving our planet's basic raw materials. Mining is no longer the only supplier of raw materials. No more take raw materials, Make with raw materials and the throw away those materials. What do we have to salvage?
---
There is the Landfill and there is the Junk Yard
…..full of useful reusable material for Industry
…….cities want to clean them up
Wrecking, Junk, and Auto Salvage Yards
The following City regulations shall apply to all wrecking, junk or auto salvage yard businesses in the city and it shall be unlawful to operate such businesses in any manner except in accordance with these regulations:
A valid Regulated Business License
The premises shall be maintained in a clean and sanitary condition.
Only space covered by this license shall be used in the yard business.
No junk/parts shall be allowed to protrude over any public street
Vehicles shall not be stacked upon one another
No combustible materials shall be kept on the premises
No burning of any materials
The area shall be enclosed with screening that meets City standards
Inspections shall be permited
It shall NOT be allowed that the yard become a public nuisance
No vehicle may be parted out unless the owner or operator has:

A certificate of title;
A certificate of authority to demolish;
A police sales receipt; or
A transfer document issued by the state department of labor and standards or other authorized agency of the state.

……………………
………………………..
…………………
---
There is much to do in REmanufacturing!
Remanufacturing is a Blue type Company – The indirectly Circular Sector.
CIRCULAR JOB
ECONOMIC
SECTOR
CIRCULAR ECONOMY
ELEMENTS
EXAMPLE SECTORS
AND ACTIVITIES
DIRECT
CIRCULAR
JOBS
Dedicated Circular
SECTOR


started Green

>Renewables
>Use Waste as a Resource
>Prioritise Regenerative
Resources
>Start-ups in every industry
>New Industries!
>Recycling
>Renewable Energy
>Clean Transportation
>Sustainable Food
DIRECT
and INDIRECTLY CIRCULAR
JOBS
ENABLING
Circular
SECTOR


moved to Green

>Close Life Cycle Design
>Rethink to Sustainable Business Model
>Team up to Create Joint Value
>eco Supply Chains
>Industrial, Product Design &Architecture
>Rethink Production
>Renting or Leasing

INDIRECTLY
CIRCULAR
JOBS
INDIRECTLY
Circular
SECTOR


have green divisions

Business as usual, but with the following:
>Sustain & Preserve
what's Already made
>Assess Life Cycle
>Use Waste as a Resource
>Switch to sustainable business model
>Remanufacture
>sell / recycle unusable waste
>Renting or Leasing
---
So many things
that can be re-manufactured!
limited list of the Range of products being remanufactured
Aerospace
Automotive Parts
Air-conditioning units
Batteries NiMH/LIO
Bakery Equipment
Carpet tiles
Compressors
Computer and telecommunication equipment.
Defense equipment
Electrical motors and apparatus
Excavation equipment
Fashion apparel and accessories
Gaming Machines
Hydraulic Cylinders
Industrial food processing equipment
Machine tools
Medical Equipment
Musical Instruments
Office furniture
Office photocopiers (laser toner cartridges)
Power bearings
Pumps
Robots
Rolling stock (railway vehicles)
Surgical Medical Tables
Telecommunications Equipment
Toner Cartridges
Vehicular Parts
Vending Machines
---
Who is doing it?
Reducing, reusing and recycling materials once destined for landfills benefits customers, the environment and our company. After all, remanufactured parts offer the same quality, warranty, performance and reliability at a fraction of the cost of a new part, while reducing the need for raw materials and conserving energy during the manufacturing process. And since re-manufactured parts often include critical engineering upgrades, the remanufactured part can be better than when it was new.
---
Reman Day 2022
Months to plan an event!
14 April, 2022
What is Global Reman Day?

Designated the day to advance the Remanufacturing Industry through REmanufacturer-hosted events and workforce development initiatives.
RIC – The Remanufacturing Industries Council would like you to:
Register your Event
Use their Reman Day Resources to plan your event
Find a Reman Day event near you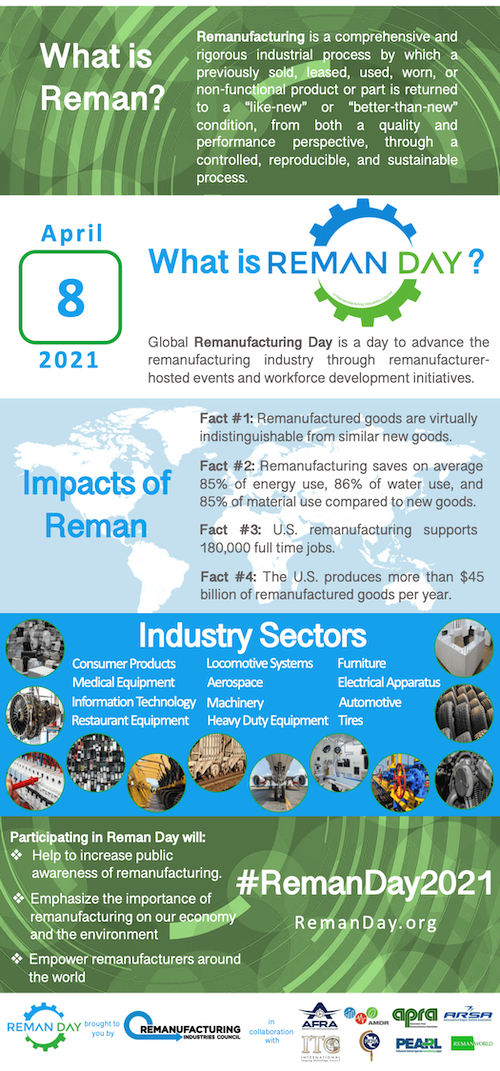 Event Ideas for Reman Day….
Your could use the Reman Day Event Planning Tool
If you click on that page and answer 2 questions, RemanDay.org will send you some ideas of what your organization can do to promote Remanufacturing in your region.
One of the questions is:
Who is your target audience for your Reman Day event?
>>>Employees
>>>Students
>>>Customers/Vendors
>>>Elected Officials
>>>General Public




The answers could be:
Internal events:
External events:
Employees and their families invited to see what the employees do
Employees and suppliers invited for a chance to get to know each other
A video for remote workers to give them a tour of headquarters
Invite the public/community for a tour of the facilities or a presentation about remanufacturing
Local elected officials for building civic relationships
High school or higher education students for workforce development
Customers for a deeper relationship with the company
Organizations Representing the Remanufacturing Industry
Aircraft Fleet Recycling Association (AFRA) *
Aeronautical Repair Station Association (ARSA) *
Automotive Body Parts Association (ABPA)
Automotive Engine Rebuilders Association (AERA)
Automotive Parts Remanufacturers Association (APRA) *
Automatic Transmission Rebuilders Association (ATRA)
Center for Remanufacturing & Resource Recovery (C3R)
European Toner & Inkjet Remanufacturers Association (ETIRA)
Engine Rebuilders Council (ERC)
Independent Wood Processors Association of British Columbia
International Association of Medical Equipment Remarketers and Servicers (IAMERS)
International Compressor Remanufacturers Association (ICRA)
International Federation of Engine Remanufacturers and Rebuilders (FIRM)
International Imaging Technology Council (I-ITC) *
International Truck Parts Association
Motor & Equipment Remanufacturers Association (MERA)
Production Engine Remanufacturers Association (PERA)
Professional Electrical Apparatus Reconditioning League (PEARL) *
Retread Tire Association (RTA)
Tire Industry Association (TIA)
Valve Manufacturers Association of America (VMA)
* has entered into a "Memorandum of Understanding" with the RIC to advance the remanufacturing industry.
From Reman Day 2018
From Reman Day 2019
From Reman Day 2020
From Reman Day 2021
Recover all the material we can
and keep it out of the Junk Yard.
She said in 2018…..

I call 2020 the 'super year' because for nature, and therefore for us humans, that could be the year it could all change. 

Bernadette Fischler, Head of Advocacy for the 2020 Project (wwf)
Here is a series of posts about Africa and one of the business areas that I believe Africa could take on in a big way: Remanufacturing, to re-use all the old imported products on the continent:
Africa – Please Stay Harmonised with planet Earth.
Africa for Small Businesses – Opportunities, Opportunities!

ReManufacture, Reman, ReNewed
ReManufacturing Win-Win for Africa
Reman Day – Only Weeks Away ! 2021
Reman Day — 14 April, 2022

There are more posts that mention Africa in some way, here