In this post:
ReManufacture = Big Reuse Resources Business,
Our planet Earth is just 9% circular!,
CORE,
if you have not eaten it or exploded it…you can ReManufacture it!,
Impacts of Remanufacturing,
Finding a ReManufacturer,
Reman Industry troubled by Need for MORE Skilled Technicians
…Remember that at the bottom, more posts on the Africa and ReManufacturing
ReManufacture = Big Reuse Resources Business
Make like new with a new warrantee
Our planet Earth is just 9% circular!
So says a report published in January 2018 by Circle Economy UA (Netherlands). They figure that right now there is just a 9% circular flow of goods in the worldwide economy – closed-loop.

If you reverse this idea, it means that there are almost unlimited resources to find and reuse. More than 90% of the world's existing resources are out there waiting to be reused in the Circular Economy (CE) using methods like ReManufacturing.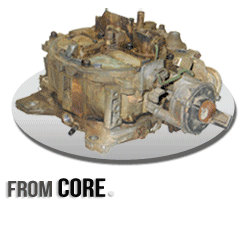 Remanufacturing is already an old established business. It has been around for many a decade. Big machinery and Agro-Vehicle manufacturers are few in the world and they have lead industry in this area. Remanufacturing is a form of product recovery that differs from other recovery processes in its completeness: a remanufactured machine or component should match the same customer expectation as new. A general definition of remanufacturing "is an industrial process whereby used products (referred to as cores) are fixed to like new useful life. Using cores, instead of consuming new virgin materials, by remanufacturing, brings these things back into the market as like new with the same warrantee as they had in their first life…..Often at a percentage lower price.
What is a Remanufacture CORE?
No meaningful conversation about ReManufacturing can be had without dealing with the confusing subject of CORE. COREs can be emotional. "They are dirty", "They are killing my balance sheet," "I can't get enough," "I have too many," "How do I value them?" The need and use of COREs is the unique "item" that belongs to the remanufacturing industry and is viewed in terms of supply "loops", not linear chains.
They are ALL in general referred to as CORE until they get to their specific re-manufacturing production line – A previously sold, worn or now non-functional product or part of any kind. As a CORE, it is subjected to reverse logistics, protected, handled and identified for remanufacturing to avoid damage and to preserve its value. It is a used part that is not intended to be used again until it is remanufactured.

Cores have such a very very wide spectrum of worth and value – it can be in use for 1 hour or for years. The term core can create a high level of anxiety to the unsuspecting and unwary owner/receiver/finder. Some of issues and people involved with cores are:

Core Broker:
Core Deposit/Core Charge:
Core Book Value:
Core as a commodity
How should cores be valued?
Core Ownership
---
Remanufacture
Remanufacturing is not the same as "recycling" or "repairing" – it is not a 2nd hand replacement part and the range of products being remanufactured is big:

• Aerospace
• Air-conditioning units
• Bakery Equipment
• Carpet tiles
• Compressors
• Computer and telecommunication equipment.
• Defense equipment
• Electrical motors and apparatus
• Excavation equipment
• Fashion apparel and accessories
• Gaming Machines
• Industrial food processing equipment
• Machine tools
• Medical Equipment
• Musical Instruments
• Office furniture
• Office photocopiers (laser toner cartridges)
• Power bearings
• Pumps
• Robots
• Rolling stock (railway vehicles)
• Surgical Medical Tables
• Telecommunications Equipment
• Toner Cartridges
• Vehicular Parts
• Vending Machines
It is almost as if……..
if you have not eaten it or exploded it
…you can ReManufacture it!
Impacts of Remanufacturing
New research from the APICS Foundation, finds that ReManufacturing serves many company interests and concerns; provides training and career advancement for workers, widens the range of products to sell, increases sustainability, and can cut carbon footprints. "Remanufacturing was once considered a niche' process," says Jonathan Thatcher, director of research, APICS Foundation. "Today it is becoming many mainstream industries."
The US is the world's largest producer, consumer and exporter of remanufactured products. In a 2012 report, the U.S. International Trade Commission estimated that the value of US re-manufactured production had reached $43 billion by 2011, supporting approximately 180,000 full-time jobs
Other countries, besides US and the EU, are rapidly developing their own remanufacturing industries. Each country can cut down on their carbon footprints and shipping costs by opening more remanufacturing into their local markets. Good reasons to do this are to avoid protective tariffs, port congestion, technical standards, customs valuation above invoice prices, theft of goods, import permits, antidumping measures, inefficient bureaucracy and excessive regulation. And the benefits include:
• Conservation of materials on the continent (of increasing importance as raw materials become scarcer and more expensive)
• Reduce energy consumption during manufacturing
• Reduce waste (and waste disposal costs)
• More sales at Lower prices for same quality
• Reduce Carbon Footprints
• More Jobs
• More Training and career progress in crucial industries


Finding a ReManufacturer
*Would you like to find a ReManufacturer to work for near you? Do you want to find out what this business is really all about? Start a small business? Then find a used component (a "core" of some kind) and follow it through the process. If you find a core that is related to a dream industry/work experience you want to try, that "core" might just lead to that job/business!

*If you have a landfill near you that is full of used component parts, there are now ways to find a ReManufacturer for those parts, somewhere – ON-LINE – if the part is in reasonable condition.
In Europe the C-ECO Circular Economy Solutions GmbH has set up CoremanNet a reverse logistics "ReManufacture finder" and C-ECO's service brand. This is a complicated business, but how intriguing.
CoremanNet is one of many such businesses that offers "qualified core" return solutions for the automotive spare parts market or other markets. Can you believe it? If the USA and Europe are the centers of remanufacturing today….what makes it so attractive to open yet another service hub there??
CoremanNet has opened a new service hub in Memphis, Tennessee to further improve and extend its services within the North American market. The new location meets the "ever increasing customer demand in North America" for a simple and fast reverse logistics solution.

The worldwide CoremanNet network has few outlets in Africa. But an affiliate, ZF Aftermarket, has a service hub in South Africa.

But what planet Earth needs is more "Local ReManufacturing Companies" to keep the parts in each continent, create more jobs, reclaim or reuse existing resources and cut down on carbon footprints/shipping. There are a lot of companies that could provide the necessary training, facilities and opportunities for lots of places in the world.


Millions of Different Products can be ReManufactured!
In March 2018, Camso – the Road Free Company, launched its certified ReManufactured tracks and ReManufactured wheels program to help customers get multiple lives from their tracked machine's wheels and tracks. ReManufacturing is available for tracks taken from friction drive tractors, and for midroller wheels of all tractors.
"It's a game changer in the way people buy and use tracks and wheels. Customers can now think of a product that provides the lowest operating cost through its first life, while considering the multiple lives that can be delivered after its initial cycle. A track carcass and wheel "core" still have a value and can be remanufactured if they're not worn to the bone," said Martin Lunkenbein, Service and Aftermarket Sales Executive Director – Agriculture at Camso. "The program allows customers to return their used Camso wheels and tracks to their local dealer. Then they can buy a Camso certified remanufactured product from our inventory.

Cartridges are ReManufactured from many sources…..and…..
Hewlett Packard ReManufactures the Hardware The cores for these Remanufactured products come from various sources, including customer returns and cancelled orders, demonstration and trial units, overstocks, products damaged during shipping, and lease returns from various parts of the world.


Nextant Aeropace – 2013 – From a 125,000-square-foot facility, Nextant Aerospace is taking remanufacturing to new heights.
CLEVELAND, OHIO, Monday June 25, 2018 – Nextant's pioneering process for the "remanufacturing of business jets" is now recognized as an established technical and commercial success worldwide.
Founded in 1995, CoreCentric Solutions, Inc., provides customized remanufacturing solutions to some of the largest US Retailers and Major Home Appliance producers in the world. (A Small Business taking off! A waste rush. )
Meditek, we're "Here for L.I.F.E." For more than 30 years, Meditek has been selling used, remanufactured and refurbished medical equipment to healthcare providers across Canada. We are fully registered with Health Canada and have completed ReManufacturing projects for more than 250 hospitals nationwide.



Reman Industry is troubled by
Need for MORE Skilled Technicians
Reman Magazine –
At the beginning of a new age for ReManufacturing, the otherwise positive outlook is in danger because there are not enough skilled technicians. This is only expected to get worse. Based on a 2017 survey among its member companies, Aeronautical Repair Station Association (ARSA) estimated the number of open technical positions needed by all ReManufacturers, world-wide, is huge. They are loosing billions of dollars because there are not enough skilled workers for unfilled technical jobs. Developing the workforce for the future will largely be in the hands of the industries themselves.

Just like the aviation maintenance, repair and overhaul industry, which is projected to grow from $75 billion in annual revenue to $100 billion over the next decade, all remanufacturing across the board – from automotive and trucks to medical equipment, heavy equipment, printing, electronics, furniture and other sectors – is also expecting big growth, world-wide. Where are the technicians that are needed?
Adopting the European style of apprenticeships is among the most promising ideas to develop this workforce. But mostly, re-manufacturers train their own recruits, set up training programs with local technical high schools or colleges or look for other creative ways to attract, train and retain technicians and other skilled workers.
So far, the reman industry has failed to create awareness of perhaps the strongest selling points of remanufacturing, particularly among the young generation it needs to attract – These are a green industry of the future, preserving resources, saving energy and building local economies. A first step in bringing these ideas to the world population is the first annual Global Reman Day on April 12. Remanufacturing companies across the globe had their opportunity to attract the general public on a large scale on April 11, and will again next year on April 9, 2020 on Reman Day.




A Call to potential emigrants
(those trying to leave their country):
Are you saving money to try to get to the EU or elsewhere?  Why not use the money to try and open a ReManufacturing business in your country.  Some of these big companies may want to even partner with you in the name of sustainability.

Remanufacture
Keep an open mind – a question not asked, is a door not opened and/or closed. If this interests you, see what you can find out……..
Feel free to ask me to look for information about the Product you would like to ReManufacture! If I can help you find remanufacturing or something like it in your country, I would be glad to!
Here is a series of posts about Africa and one of the business areas that I believe Africa could take on in a big way: Remanufacturing, to re-use all the old imported products on the continent:
Africa – Please Stay Harmonised with planet Earth.
Africa for Small Businesses – Opportunities, Opportunities!

ReManufacture, Reman, ReNewed
ReManufacturing Win-Win for Africa
Reman Day – Only Weeks Away ! 2021
Reman Day — 14 April, 2022

There are more posts that mention Africa in some way, here