………………to say nothing of the rest of the developing areas of planet Earth.

In this post:
ReManufacturing units in Africa is a fantastic opportunity to add jobs,
Africa is ready to grow big with ReManufacturing,
ReManufacturing in Africa of some kind, in 27 for her countries,
ReManufacturing Industry – seriously in need of skilled workers,
above:
Probe Corp. auto-electrical workshop – remanufacturing and innovative repair
…and a list at the bottom of posts in the Africa and ReManufacturing series.
Local ReManufacturing units in Africa is a fantastic opportunity to provide jobs, training, open small and medium size businesses, increase sustainability and keep business local.
A hasty internet surf for ReManufacturing in the 54 countries of Africa, produced what is below…… If only 1/3 of the information below is true, Africa is ready to grow big with ReManufacturing.

Where there is a company that sells machine parts or services them, there is the POTENTIAL to re-manufacture.

Keep an open mind –
A question not asked, is a door not opened (and/or closed).
– Dr. M. Adams, Ph.D.
If this stuff interests you, see what you can find out……..

ReManufacturing in Africa
Algeria – This North African coastal state is one of the most important African markets for Liebherr
Burkina Faso – Cat Reman is in Burkina Faso
Cote d'Ivoire – Toulouse, June 15, 2018: Airbus and the government of Côte d'Ivoire signed a Memorandum of Understanding (MoU) to support the development of the country's aerospace industry. This could lead to a ReManufacturing unit.
Egypt – International Conference on Remanufacturing and Automation Technologies (ICRAT-18), Sep 22nd – Sep 23rd, Cairo ,Egypt
SKF – Remanufacturing

Ethiopia – From WEF – The IMF World Economic Outlook predicts 8.5% growth in 2018, far outstripping that of advanced economies. Ethiopia's rise has been largely driven by an increase in industrial activity, including investments in infrastructure and manufacturing. For Example: Ethiopia has also invested in a light rail system, the first of its kind in the region.
Mr. Yu Weiguo can successfully make and sell new mobile phones in Ethiopia – Who has followed-up with ReManufactured phones.
Gabon: leading ICT-connected country in Central and Western Africa thanks to judicious investments It is impossible these days to drive around the cities of Gabon without noticing the large billboards promoting internet access at rates that were unimaginable only a few years ago.
If Mr. Yu can make a business of new phone production in Ethiopia. Someone in Gabon can make a business and sell ReManufactured phones!
Gambia – Gambia Technical Training Institute (GTTI) engineering department, in collaboration with the National Environment Agency (NEA) are training technicians in refrigeration and air conditioning, hydrocarbon and carbon dioxide management and in the use of alternative gases.

Ghana – A March 2013 report on ResearchGate talks about Dumping grounds of imported machineries and components in and around Ghana. These used products would serve as valuable core in the re-manufacturing industry. Remanufacturing will lead to environmental cleanliness, job creation and new quality product availability at competitive pricing with warranty.
Aquatic Solutions Ghana Ltd – can this company use a remanufacturer?
Liebherr-Ghana Ltd. was founded in 2008. The service organization is located in the capital of Accra and mainly provides support for Liebherr machines. Liebherr has a Reman Program. Look at their "Career" offerings.
Kenya – Here is a place that needs a course in ReManufacturing.  Most of Africa's medical equipment is imported. "Equipment graveyards" become the final resting place for used medical devices and those that do not work in Africa.  The causes can include dust, heat, humidity and intermittent electricity supply.  Some are discarded because medical staff haven't been trained to operate them or replacement parts are not available.  African Biomedical Engineering Consortium – to develop a dynamic biomedical device sector for improved healthcare in Africa.
May 17, 2018  Miraisha, one of Canon's basic sustainability programmes trains photographers, videographers, film-makers and print business owners.  This is not remanufacturing, but suggests that Canon is very interested.  https://en.canon-cna.com/   https://www.canon.co.za/
Lesotho – is one of the countries serviced by Barloworld Equipment. Headquartered in SA, this company houses a Catapillar "Cat SOS Services oil, fuel and wear analysis laboratory", of which there are only 5 worldwide. Remanufacturing is a big part of this company's interest and operations.
Madagascar – is one of Komatsu's many African locations. They offer Reman Parts as part of their offerings.

Malawi – Cummins Inc. services Malawi from Mozambique, but there are many dealer and distributor locations in Africa. Cummins maintains a Remanufactured-Not Rebuilt attitude.

Mali – March 2018 – In one of the largest LTE rollouts in Africa, Nokia, will modernize around 11,000 radio sites in Egypt, Ivory Coast, Cameroon, Senegal, Mali, Guinea-Bissau and Niger. Using Nokia's Single RAN technology, Orange will be able to support existing 2G and 3G subscribers while enhancing speeds and coverage as it launches 4G services. ( Are they doing remanufacturing in Africa? I haven't found information. But, I have not checked every one of their Africa offices. )

Mauritania – This new port zone will need maintenance and remanufacturing services.


Mauritius – UMWL – They just do not call it remanufacturing yet.



Morocco – Both the companies Eaton and Liebherr or in Morocco. Both companies have remanufacturing units, somewhere.
Mozambique – Movicortes is also here, working on customer solutions.
Namibia – Scania offers an extensive used-parts service, in Ondangwa, where ReManufactured spare parts are offered at cost-saving prices.

Niger – For over 30 years IBM has been dealing with product life cycles. Over 99% of all IT end of life equipment and IT product waste (IBM or other) is either reused, remanufactured or recycled.

Nigeria – Cummins has representation in 51 African countries through various distribution networks ONE CUMMINS. ONE AFRICA. ONE TEAM. Cummins must understand the size of Africa. Their offices deal with aftermarket service & Technical Training.
28 June 2018 – Environment Minister of State, Nigeria, Ibrahim Usman Jibril says, "The Government has initiated the Extended Producer Responsibility (EPR) programme to encourage industry to shift to closed-cycle manufacturing and efficient take-back schemes for remanufacturing and recycling."
Liebherr is in Nigeria, too. Look at their list of career and training opportunities. They know that technical workers for the ReManufacturing industry are hard to find.

Reunion – Harley-Davidson does business in a number of Africa's countries.
Rwanda – VW Assembly plant, but will this increase air pollution?

South Africa –
Kappa Engineering will repair or remanufacture any hydraulic cylinder.
Camshaft Remanufacturing Centre – Automotive Repair Shop in Johannesburg, Gauteng
Technical Training – In 2016, some 10 million manufacturing jobs worldwide were unfilled because of shortages in technical capabilities and skills. Komatsu and Cummins are investing in new engineers.
Probe Corporation – Trust Probe for new, re-manufactured, genuine and approved replacement parts and the highest quality approved repair facility.
PROBE Corporation – a leader in rotating electrics and batteries in South Africa
"At a time when import costs are very very high in South Africa, it makes business sense to use existing, core products that are old or used, to build these up again into high-quality yet cost-effective products that do not attract import duties. This is a savings that can be passed onto all customers, including resellers and the direct public."
Perhaps the biggest plus for local re-manufacturers is job creation. A team of skilled workers must be in place to actively seek and source products from the market, correctly identify and sort core products, carefully dismantle and rebuild the product, and test the product before being packaged and sold. Frank Rovelli, from Probe, says, "It takes time and investment to build up a well-functioning team. Having been in re-manufacturing for a number of decades, we can ensure a win-win situation for our customer, our staff and Probe as a skilled re-manufacturer."
Tunisia – 2017-03-28 – Bitzer has opened its 47th Green Point site for compressor overhauls, repairs and re-manufacturing, this time in Tunisia. The Green Point Tunisia technical team, trained in the Green Point Competence Centre in France, will offer field services such as troubleshooting, compressor re-commissioning and oil replacement, in addition to pure compressor repairs.
Uganda – Kiira will include re-manufacturing down the line. April 2018 – Shs 24b of this financial year's budget, has been approved, to be allocated for the commercialisation of the Kiira Electronic Vehicle Project.
Zambia – August 2017 – Hitachi Construction Machinery Zambia Co., Ltd. today announces that the successful expansion of it's Reman Centre in Lusaka is completed.
Zimbabwe – ABB's Africa contact center


The international ReManufacturing Industry is seriously in need of skilled workers.
Remanufacturing companies across the globe had their opportunity to attract attention to their work and find new recruits on a larger scale on April 11, and will do it again next year on 9 April, 2020 on Reman Day.








A Call to potential migrants
(trying to leave Africa):
Are you saving money to try to get out? Why not stay in? Use the money to try and start your own ReManufacturing business in your country?

Keep an open mind – a question not asked, is a door not opened and/or closed.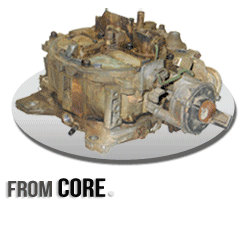 Carburetor Rebuild & Return Service
Out of a small garage in Chicago in 1948, Robert Portman founded United Remanufacturing Co. (UREMCO). If Mr. Portman could do it, maybe you can too.



Feel free to ask me to look for information about the Product you would like to ReManufacture! If I can help you find remanufacturing or something like it in your country, I would be glad to!
Here is a series of posts about Africa and one of the business areas that I believe Africa could take on in a big way: Remanufacturing, to re-use all the old imported products on the continent:
Africa – Please Stay Harmonised with planet Earth.
Africa for Small Businesses – Opportunities, Opportunities!

ReManufacture, Reman, ReNewed
ReManufacturing Win-Win for Africa
Reman Day – Only Weeks Away ! 2021
Reman Day — 14 April, 2022

There are more posts that mention Africa in some way, here