> Saving the World's Resources
REMAN DAY 13 April, 2023
>> Remanufactured <<
in this post
Save money, energy and Raw Materials
by Re-Manufacturing Old parts.
Business opportunities WORLD–WIDE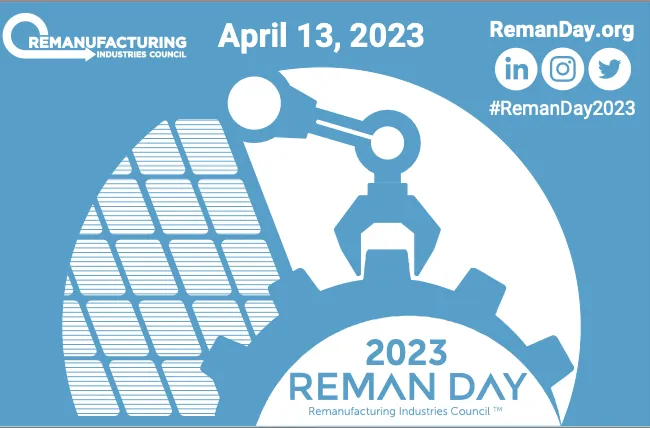 Can Remanufacturing build the industrial Circular Economy?
by David Food Strategy Dir. Prophetic Technology at Trans.INFO
Localised Remanufacturing is
more eco-friendly and logical.
If manufacturers could harvest recyclable materials close by their locations, selling and using consumer goods instead of throwing them in landfills, their customers would turn into their suppliers for a significant change in Supply Chain dynamics. Circular Economy is a powerful way for manufacturers to show how they line up with customers expecting to purchase sustainably developed products.

Several companies produce a solid profit flood from remanufacturing their products and selling such services to other organisations. Manufacturers are also re-locating industrial units closer to remanufacturing sites, shrinking emissions from logistics and shipping.

…The Circular Economy must encompass the engines and industrial manufacturers that churn out the goods we use daily. We are talking about the factories that assemble the machinery and components for data centers, farming tractors, robots, elevator construction excavators, cars, wind turbines, heating and ventilation equipment, and more – basically the infrastructure of modern, digital society.

Remanufacturing will reduce the circle between first-time product procedure and reuse, decreasing waste and increasing profits, empowering Circular Industry and Economy.

…Remanufacturing will strengthen and cut down the circle between first-time product usage and reuse, bringing down waste, increasing profits and setting in motion the Circular Industry and Economy.

Is Remanufacturing an option to start in your company in an Circular industrial effort?
Localised Remanufacturing
is worth looking into, Today!
---
What can be Re-Manufactured?
limited list of the Range of products being re-manufactured
Aerospace
Automotive Parts
Air-conditioning units
Batteries NiMH/LIO
Bakery Equipment
Carpet tiles
Compressors
Computer and telecom. equipment.
Defense equipment
Electrical motors and apparatus
Excavation equipment
Fashion apparel and accessories
Gaming Machines
Hydraulic Cylinders
Industrial food processing equipment
Machine tools
Medical Equipment
Musical Instruments
Office furniture
Office photocopiers
Power bearings
Pumps
Robots
Rolling stock (railway vehicles)
Surgical Medical Tables
Telecommunications Equipment
Toner Cartridges
Vehicular Electronics
Vending Machines
---
ZF – THE POTENTIAL OF REMANUFACTURING

ZF – THE ADVANTAGES OF REMANUFACTURING
Make old parts new again
ZF Aftermarket is a EUR 3 billion powerhouse with a combined team of about 8,000 employees.
We have a total of 120 locations in 40 countries worldwide – including 90 logistics centers – and more than 650 service partners with a strong presence in both automotive and industrial markets.
This makes us the second largest aftermarket organization worldwide.
With 20 remanufacturing locations around the globe, ZF plays a leading role in the industrial refurbishment of old parts. In Europe, America, Asia and Africa, the remanufacturing program is part of the global network of ZF Aftermarket. Remanufacturing at ZF follows a quality-checked and customer-oriented process. Old parts, also called cores, are the basis for remanufacturing.
The use of remanufactured parts has many advantages. Whether wholesalers, workshops, fleet or vehicle owners – everyone can benefit from minimized downtimes, lower costs, greater safety and the latest technology. According to Tomasz Galązka (Head of Global REMAN Strategy & Development), "especially nowadays, it is important to show how beneficial remanufacturing is for the environment, and thus help our end-customers to be able to over-perform the market with a ZF REMAN product".
---
A Leader in Current Office Trends
Dedicated to providing you with the latest office trends, we've been leaders in remanufactured business furniture since 1948. With years of industry experience, our professionals remanufacture office furniture from major product lines including Herman Miller, Steelcase, and more. Simply select the products or workstations of your choice, and we'll have them rebuilt and remanufactured to your specifications. The result is a product that looks like-new, saves you big on cost, and is ready to fit your workspace.
A Pioneer in Environmental Innovation
Always environmentally conscious, Davies Office only uses cutting-edge technologies and practices to ensure as little harm to the environment as possible. We also ensure that each remanufactured furniture product we sell is durable, resilient, and able to withstand years of repeated handling and wear.
---
Car-electronics remanufacturing Experts
Why repair when you can remanufacture?
Do not get us wrong, we encourage everything that can give a car part a second life, but why would you limit to a basic repair if there is a better alternative like remanufacture? During a remanufacture all of the common weak points in a car part will be attended to, not only the parts that are actually defective. We probably don't need to explain that this approach will create a higher quality and therefore a longer life of the part.
We are proud of our methods, that's why we will give 2 years warranty on all of our remanufactured parts. Remanufacturing is an excellent cost effective alternative to a new replacement part. Why spend money when an economical option is available?
---
What is Global Reman Day?
Global Reman Day is a day to advance the remanufacturing industry through remanufacturing company-hosted events and workforce development actions.
How Reman Day Works
REGISTER YOUR EVENT
Join hundreds of other remanufacturers from around the world celebrating global Reman Day!
REMAN DAY REGISTRATION
PLAN YOUR EVENT
No matter what size event you choose to have, each and every event is important in raising awareness about remanufacturing and its benefits to the environment and economy.
VIEW OUR RESOURCES
HAVE FUN CELEBRATING
Be sure to use #RemanDay2023 when sharing your event on social media.
Where they are celebrating
---
RIC-RIT World Remanufacturing Conference
Bringing together the most forward-thinking innovators in reman.
The RIC-RIT World Remanufacturing Conference is the only event of its kind, connecting remanufacturing personnel to the innovations, challenges, and opportunities that are shaping remanufacturing today. At least 4 tours are planned. Panel discussions, keynote addresses, and more give attendees access to expert knowledge from the industry's best innovative minds. Packed with opportunities for learning and networking, it's where the people who are most passionate about remanufacturing meet and pave the way for the future.
Other posts on Remanufacturing
Remanufacturing Posts

ReManufacture, Reman, ReNewed – What is Remanufacturing
ReManufacturing In Africa – A Win-Win

Reman Day — 14 April, 2022
Reman Day – Please Africa Consider This For Next Year ! – 2021